Bringing the newest survey tech to the oldest structures
Barritt Lovelace PE, Director — UAS, AI and Reality Modelling, Collins Engineers talks to Abigail Tomkins
How UAS surveying brought multiple benefits to a bridge restoration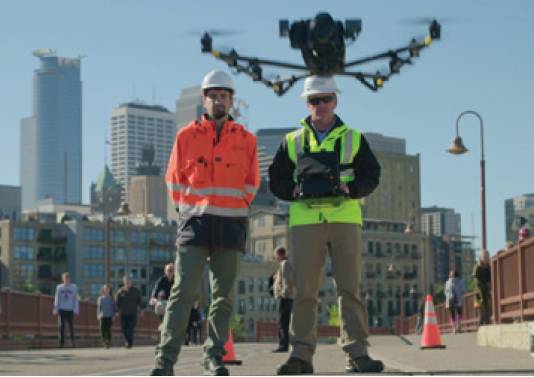 ONE of the stand-out projects from 2021's Going Digital Awards was the unmanned aerial systems (UAS) survey of Minneapolis's Stone Arch Bridge.
The survey was carried out by Collins Engineers as part of a major inspection being carried out before restoration works began on the 139-year-old former railway bridge over the Mississippi River.
Barritt Lovelace, Collins's director for UAS, artificial intelligence and reality modelling, used UAS surveying to augment the physical bridge inspection, collecting over 13,000 images, which were processed with Bentley's ContextCapture and iTwin applications to create a 3D model.
The model went on to be used across multiple state government departments, and was showcased by Microsoft for its stunning effectiveness for virtual bridge inspections in HoloLens 2.
Barritt Lovelace spoke to Abigail Tomkins about the award-winning Stone Arch Bridge restoration project.
How did the UAS survey of Stone Arch Bridge come about?
It started as a research project with MnDOT [Minnesota Department of Transportation] back in 2015. It began as a conversation between myself and the state bridge engineer at a conference.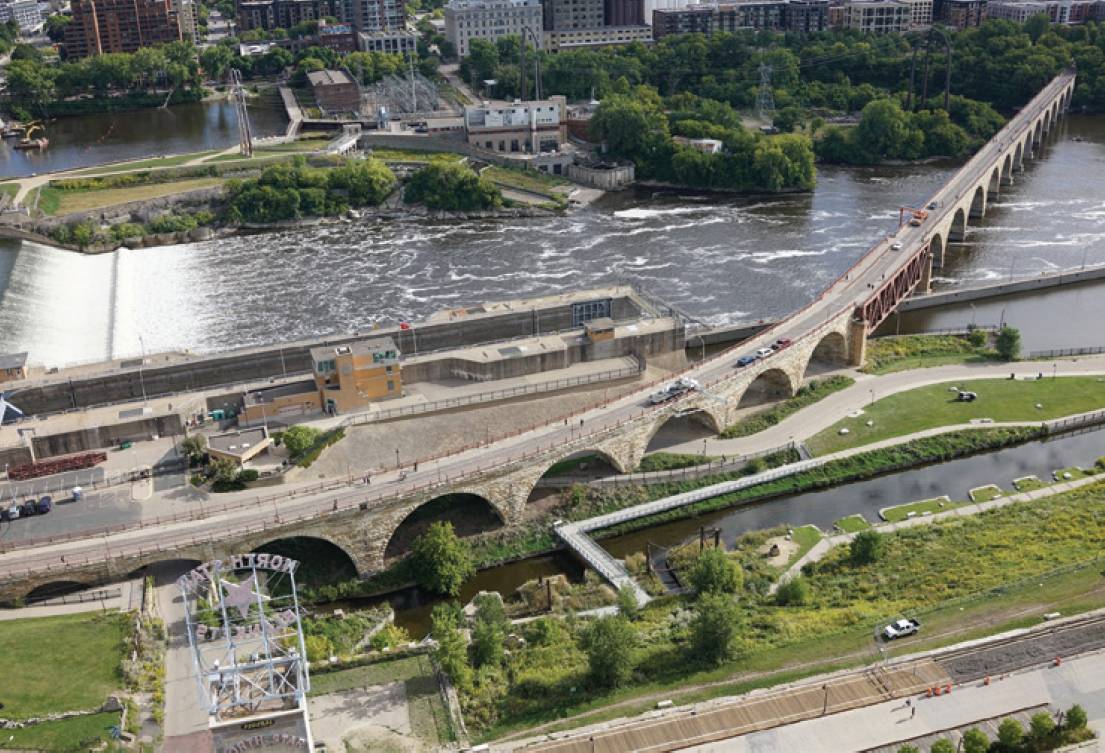 We both had a mutual interest in using new technology. MnDOT had some money in their budget to try new ideas and we developed the scope together.
At the beginning, the challenge was just about being able to fly in that kind of environment – getting the drone up, taking pictures and following FAA [Federal Aviation Administration] rules.
Pretty early on MnDOT saw the value of what we were doing and we were able develop the technologies and workflows with them.
Once we got that experience and understanding, it started to become much more about the data and the deliverables.
Now, it's not really about the drone, it's mostly about the creation of digital twins and how we're using that data in our projects. UAS surveying has evolved from research into pretty much full implementation on a lot of our projects.
Hopefully, we've shown that research pays off.
What's the main advantage of UAS surveying?
The biggest advantage is that we can collect more data faster. It is a magnitude jump in the amount of data that is available to us with UAS surveying. And yet even with that large increase, it's still easier for us to navigate that data and make use of it.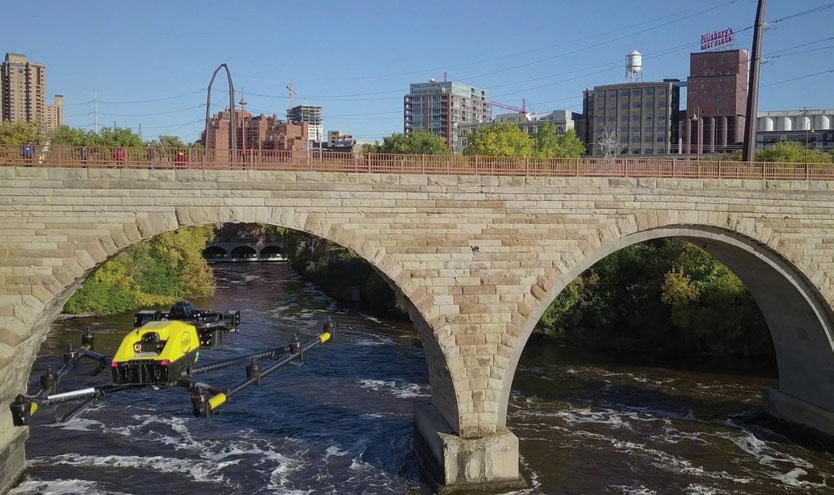 A lot of the savings come from being more efficient in the field. We can save 20-40 % on inspection costs. At the same time, we are improving the product as well. So along with the cost savings, we have an improved deliverable.
There are intangible benefits, such as making better decisions on projects because of having the better information, but that's harder to quantify. From my experience with the Stone Arch Bridge, I know that we've saved hundreds of thousands of dollars – purely because we can make decisions based on the good data that's available. We're not having to make conservative decisions to avoid risks because we're not sure how something looks or is configured or we didn't have enough pictures from the inspection.
All that data is at our fingertips. As a project design team, we're making better decisions about how to repair the bridge – and those savings are more significant than the inspection efficiencies.
Are clients open to loosening their grip on risk by using survey technology?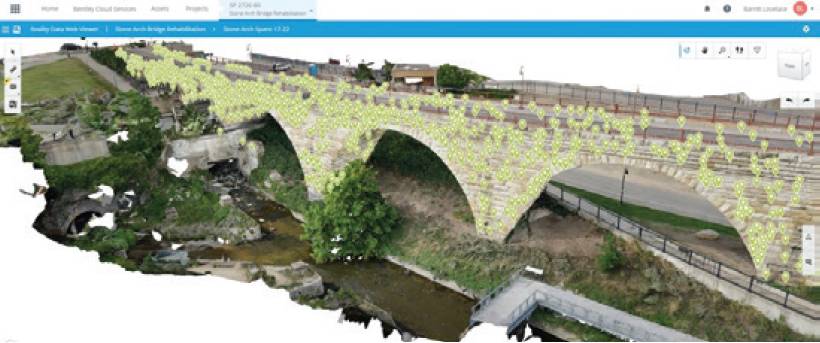 There definitely still has to be a comfort level for them! It is difficult to move away from traditional methods, but MnDOT has been very open to the benefits of these new methods and to making those less conservative decisions when we have good data.
Will UAS surveys ever replace physical bridge inspections?
I don't think we'll ever see the end of physical inspections, but we don't have to be in the field quite as much.
There are things that we can't do virtually, we're talking about augmenting the physical inspection with the digital inspection – and that is a big benefit.
You had some luck with the Army Corps of Engineers drawing down the Mississippi for a dam inspection at the same time, how did that benefit the survey?
The Army Corps drawing down the river was a coincidence that enabled us to capture those areas that are normally underwater in a digital way.
Now we have a really good record of what those piers look like and it would have been difficult for us to document those conditions before. They only draw down the water every 10-12 years – the timing was just right on this occasion.
What will happen to the data now?
We're still using historical records from the 1800s as part of our processes, and I hope that in 100 years, somebody still has all this data available to them, and can see what the bridge condition was before we repaired it. We've created a new baseline for looking at deterioration rates of the bridge throughout the next phase of its life.
UAS surveying has evolved from research into pretty much full implementation on a lot of our projects. Hopefully, we've shown that research pays off.One unexpected benefit was that while our intent was to use the data for structural repairs, a whole lot of other departments have since asked for access to the model for their own purposes.
We've been in touch with the environmental team, historical team, public engagement – that was a nice surprise to see people utilise it for their own purposes that we hadn't thought of.
What survey technology are you trialling next?
We're looking at mixed reality and carrying out inspections in the metaverse. It's a kind of catchy term right now, but when that language started coming out, it occurred to us that we're actually creating digital twins that reside in the metaverse.
Shortly we'll be able to have meetings 'on site' in a virtual environment. We can pull in experts from around the world and 'meet' at the bridge for our discussions.
What was you favourite part of the Stone Arch Bridge project?
It was the contrast between such a historical structure – an icon of Minnesota – and the application of really high tech, innovative ways of carrying out an inspection. It is the neatest thing to bring the newest technology to the oldest structures.
Barritt Lovelace PE, Director — UAS, AI and Reality Modelling, Collins Engineers was talking to Abigail Tomkins
blovelace@collinsengr.com www.collinsengr.com