Talking about... building back better
Mark Wheeler FCInstCES, CEO Driver Group with Ann Allen MBE, CEO, CICES; Rudi Klein, Director, Klein Legal; Stephen Blakey FCInstCES, Commercial Projects Director, Network Rail; Matthew Garratt, Commercial Director, Costain; Jim McCluskey FCInstCES, Senior Commercial Manager, VINCI Construction UK; and Shy Jackson FCInstCES, Partner, Bryan Cave Leighton Paisner
Driver's Mark Wheeler hosts a roundtable talk about building back better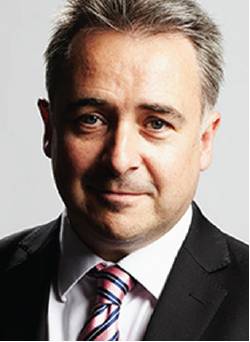 MARK Wheeler, CEO of Driver Group, brought together industry leaders to talk about what building back better means for civil engineering surveying. Joining in the discussions were, CICES CEO, Ann Allen MBE; fair payment champion, Rudi Klein; Network Rail commercial projects director, Stephen Blakey; Costain commercial director, Matthew Garratt; Vinci senior commercial manager, Jim McCluskey; and construction lawyer, Shy Jackson of Bryan Cave Leighton Paisner.
Defining building back better
Ann Allen: For me, it means getting things right first time and creating infrastructure that serves the future needs of communities. Take the three golden threads in our institution strategy – digital, sustainability, and equality and diversity – these will all fulfil the 'better' element. We will have a great workforce, because they're diverse. We are building sustainably for the future. And we are using technology to ensure that we get it right.
Shy Jackson: From my perspective, it means lessons learned – something that industry has not always been very good at doing. We've had lots of disruption lately and that has forced people to do things differently. While it has been difficult, we've found different and better ways of doing things. Now we need to capture that knowledge and use it to improve.
Stephen Blakey: It is a catalyst to examine the key problems in the sector and deploy different solutions – challenging the ways that things are done and shifting to a new dynamic.
We have an opportunity to take longstanding problems and fix them whilst working to new sensibilities and values around sustainability.
While construction did a really good job working collaboratively to deal with COVID-19, we have perennial challenges to address; predictability in construction is erratic, stakeholder confidence in our competence is mixed and we have too many high profile instances where things go wrong.
Turning token talk to walking talk
Rudi Klein: It is a massively dysfunctional system. We are still dealing with contracts from the Dark Ages, where risk is simply passed down to those who are wholly unable to deal with it. For change to happen, it starts and ends with procurement. We need to dump the way we traditionally procure. I have been working for some years with insurance-backed alliancing, where people are appointed at the outset to sign off risk, to sign off the design, and then work with the client to ensure that the cost plan has got integrity, with a proper consideration of risk awareness. Until we get there, we go nowhere.
Stephen Blakey: I agree with aspects of that, but construction performance has always been a spectrum. There are lots of good things that are being done to shift the dynamic and the supply chain will go where clients take them and many clients, particularly government departments, will look to be progressive. I can think of four things under the banner of 'building back better' which set out the expectations of an intelligent and progressive client.
'The Construction Playbook'; the 'Transforming Public Procurement' green paper; the government response to that; and 'Constructing the Gold Standard', the independent review of public sector construction frameworks. The key themes that run through all of these are collaboration, early contractor involvement, sustainability – not just from a global perspective, but sustainability of the supply chain – and making sure that there is liquidity, fair returns, and equality over the transfer of risk. Organisations are increasingly working together, recognising that the 'enemies' are risk to health and wellbeing, time, cost and quality, and not one another. I'm not saying we're all saved, but there are laudable, genuine, and coherent things being done to take us forward.
Rudi Klein: I've read umpteen reports that say what you're saying, but nothing has been implemented. To make a change, you've got to have specific measures in place. Change needs to be driven. None of this happens unless you have some overarching body, like Singapore's Building Construction Authority, to take all that, make it happen and run with it.
Mark Wheeler: In China there are a lot of benefits in having a state-mandated situation, but there are also challenges that go with that. In the UK it's important to note that we have certain sectors that are very focused on doing things in an improved, cutting edge way. And equally, somewhere in that mix is the worker who goes to do a job and hopes to get paid at the end of the day. They're all in this big mixer. It's very easy to zoom in on major civils projects and deal with them in a generalised way, but it's actually a very complex and nuanced market.
Ann Allen: We need a cultural change. For centuries, our contracts have been the same. I previously worked on a campus development and the contract had lots of similarities to the one they'd used 120 years earlier to build the first phase. We've always rewarded people around the idea of making sure that you didn't take the risk. All of us in this room have grown up within that culture.
How do we turn industry on its head? How do we start to reward collaboration?
We should be splitting that reward. We need to teach the client to be able to articulate risk and share it. How do we get an entire team of cost and contract managers having the right conversations, and not the talks that simply protect the company they are representing? It is going to take a long, long time but supporting cultural change has to come through from the first day somebody steps on site. There's a huge role around digitalisation, which will start to increase transparency around decisions. I hope that as a professional body, we can start to provide leadership in that.
Is technology the answer?
Matthew Garratt: We found out how important technology was during the pandemic. We found new ways of communicating, of bringing resources into a room from miles away and deploying expertise at much lower cost for clients. A big barrier for us now is how we upskill leaders so they can understand and implement technology and not just replicate existing systems with a digital solution.
Ann Allen: Technology is only as good as how we use it. We still have to step back and look at the numbers. I've had issues where someone will put figures in front of me and say they must be true, when they are clearly not true. We have to encourage everyone to do the checks to understand and not just rely on the figures that come out.
I'm not saying we're all saved, but there are laudable, genuine, and coherent things being done to take us forward.
Mark Wheeler: I've seen calculations that were done in one day instead of five, and there is something clearly not quite right. Yet they've gone ahead and constructed something that does not function as intended. When you get to the end of a problem like that, the cost of rectification is horrendous. Does this really come down to a saving, when over-reliance on technology has cost you so much more?
Shy Jackson: There are positive and negative sides but, overall, technology will make life better in the end. If you look at why we have problems, some things are endemic, some are to do with projects being incredibly complex, some are because people genuinely do not know their position. Technology can help with that. If we have more objectively verifiable knowledge, then you'd like to think we'll have less to argue about.
Matthew Garratt: There is a dichotomy between doing technology wrong and technology being wrong. If we look at smart contracts, they can give you prompts in a timely manner. They can handle extreme weather provisions if you have the data that tells you on what day there was a rainfall or temperature variance outside of the 10 year average. It removes opinion and replaces it with fact. We have technology that takes a five-day activity and turns it into three-days.
What does that present for clients and designers? For clients, there's now this dichotomy that if digital technology is making this quicker, you must make it cheaper. Our value proposition has to be that we are offering up intellect, experience and the surety that I'm not saying we're all saved, but there are laudable, genuine, and coherent things being done to take us forward.
CICES needs to think in terms of how it equips its practitioners to understand the digital market when it comes to procurement liabilities and holding people to account to deliver on programme – and understand the value that they've got. gives stakeholder confidence. Not enough thought is going into this at the moment.
Changing skills
Jim McCluskey: All these new systems require different skills, different to how we've all been trained, yet we still need to deliver assurance, and certified systems will have to be designed because they are critical to successful projects. A lot of lost time is expended by people getting stuck on how to use a particular piece of software. It is incredibly frustrating in our day-to-day business when people cannot get on with their jobs due to the software they are using. We need upskilling as well as bringing new skills in.
CICES needs to think in terms of how it equips its practitioners to understand the digital market when it comes to procurement liabilities and holding people to account to deliver on programme – and understand the value that they've got.
Shy Jackson: We've always had innovation, but it has been more gradual. Once Excel arrived, we were never going to get rid of it and do the figures by hand. The change that is happening now will see technology make a really big difference, and really change how things are being done. And I'd like to think that will attract people because it is an opportunity for new skills to come into our industry.
Matthew Garratt: Leaders need to be upskilled before we can really maximise the benefits of technology. It's rare that technology adds another layer of complexity. It's about making some of the traditional jobs easier. But it has to be done right.
Stephen Blakey: Leadership is about asking the right questions at the right time to make informed decisions. The expertise comes from practitioners and their application and use of technology. Leaders don't need to know the mechanics of an IT opportunity, they need to make informed decisions and create an environment that will support deployment for tangible benefits. Data is now a commodity – the richer and cleaner the data, the more valuable it is. As long as you have a common language you can benchmark on a like for like basis. The question is are leaders prepared to be altruistic and share that data, as this will be key to digital transformation.
Competence
Rudi Klein: Obviously the bigger potential is massive, but how are things going to change? Has BIM, for example, been a digital collaborative tool? Has it revolutionised the industry? One of the first things you saw was the reluctance of the industry to share data in a common environment. To maximise technology, we've got to also think about individual competence. The trouble is not so much people who can't use technology, but those who actually don't know how to evaluate its use. I've not got a clue if what I'm using is going to help me or hinder me.
While we need the experience of those who have been in industry for a long time, we have to be careful that they don't become blockers... We talk about evolution, not revolution, but maybe we need some revolutions alongside.
Ann Allen: We're having many conversations at CICES about our competencies. How do we make sure that they're not just relevant today, but actually helping members to move forward? How do we make sure that we enable data managers to become part of our profession?
As an industry, we have to develop in a way that makes us exciting and interesting because we will be competing for that data management talent. As a professional body, we have a role in setting how attractive the industry is.
What is better than building something? Than walking past a bridge and being able to say you contributed to it? We get to contribute to communities, but how do we get that exciting message out? And then how do we make sure that our qualifications and competencies cover all of those new skills that are coming in?
Stephen Blakey: In the 1970s the emergence of heating and ventilation systems led to a whole new sub-sector with bespoke contracts and expertise in procuring and managing installation and commissioning. There are similarities with regards to digital infrastructure.
A significant element of investment is on digital systems but we don't have sufficient competence and expertise in the procurement and commercial management of this. CICES needs to consider how it equips practitioners to understand the digital market risk transfer, procurement liabilities, holding people to account to deliver on programme and validating value for money from the installed system. There are significant gaps around the competency and expertise in digital systems procurement and its commercial stewardship.
Shy Jackson: Procuring technology is very different from how we procure everything else. When you procure software, you pay monthly licences as opposed to a one-off fee. Who owns it? Who takes the risk? Buying technology is very different from everything else that we've looked at before.
Same as it ever was
Mark Wheeler: Is the challenge the same it's always been? How do we get the new ideas and the fresh approach of the future, but also have enough experience in our senior generation to rub off on them so that we get the benefit of those skills and apply them to new technology?
Shy Jackson: While we need the experience of those who have been in industry for a long time, we have to be careful that they don't become blockers. People will come with some very clever ideas and perhaps because we don't understand them, we are very cautious and put the brakes on. We talk about evolution, not revolution, but maybe we need some revolutions alongside. Maybe we need to say, 'you come up with whatever you think is the best way to do it' and let's see how that works.
Mark Wheeler FCInstCES, CEO Driver Group was with Ann Allen MBE, CEO, CICES; Rudi Klein, Director, Klein Legal; Stephen Blakey FCInstCES, Commercial Projects Director, Network Rail; Matthew Garratt, Commercial Director, Costain; Jim McCluskey FCInstCES