Ukraine support efforts
Stephen Wood, Senior Director, Maxar News Bureau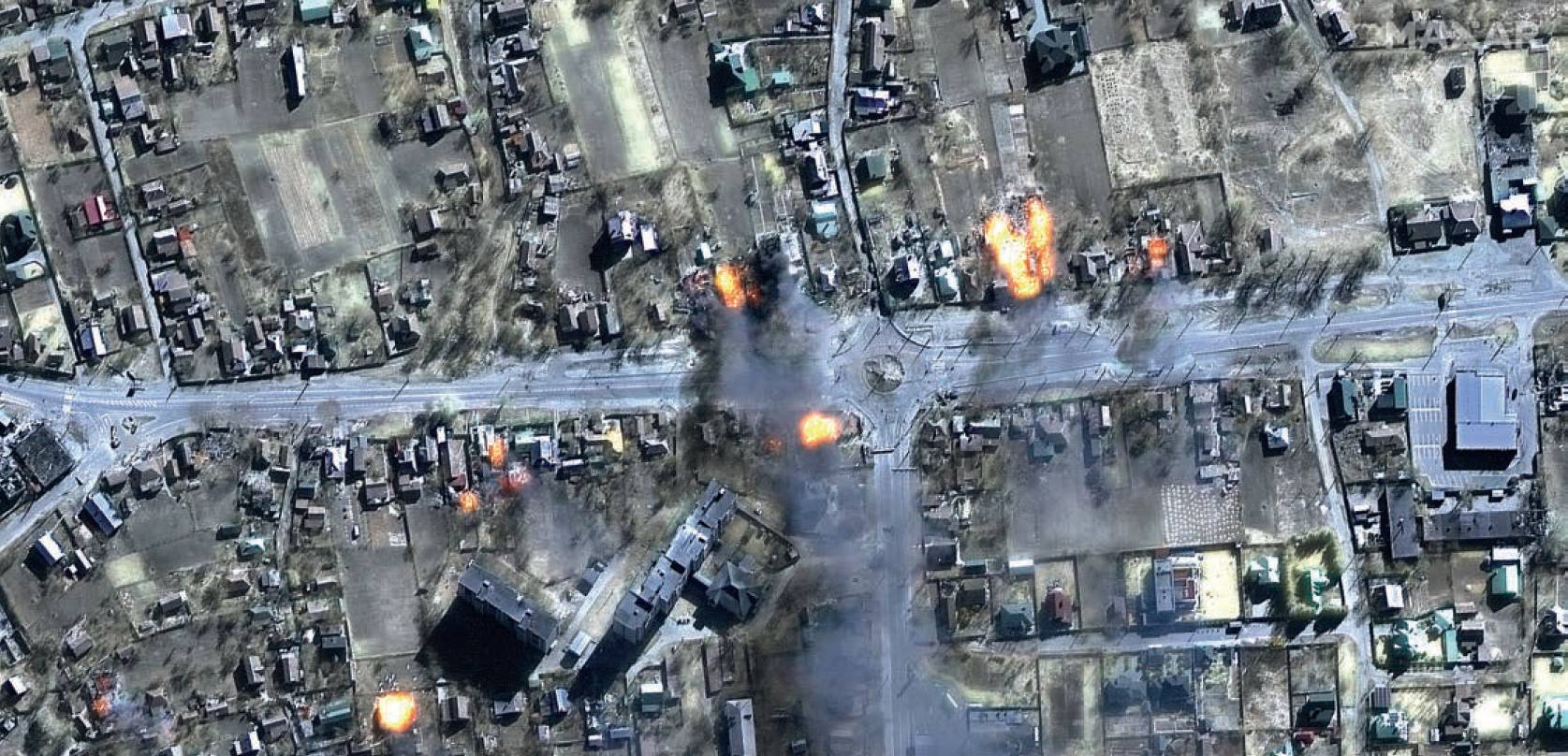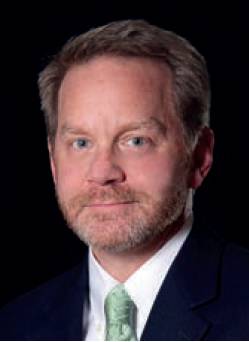 Satellite imagery combats misinformation and warns of potential food crisis
For the last eight months, the world has witnessed catastrophic damage occur across the country of Ukraine. However, tensions between Russia and Ukraine began steadily increasing during 2021 before culminating with the Russian invasion in February 2022.
Starting in March 2021 and continuing through February 2022, Maxar Technologies released images showing the Russian build-up of troops and equipment along the Ukrainian border. Russia denied having any plans to invade Ukraine and instead insisted they were conducting routine exercises. Maxar's satellite images and accompanying analysis released after the Russian invasion on 24 February 2022, have been instrumental in combating the Kremlin's disinformation campaign about the events in Ukraine. The images are helping to provide evidence as investigators build the case that Russia is violating human rights and committing war crimes in Ukraine.
Views from space increase global transparency on Earth

Since the Russian invasion began, Maxar's collection planning and mission operations centre teams have tasked the Maxar Constellation to collect more than 3.3 million sq km of satellite imagery over Ukraine. Once the imagery is collected, the Maxar News Bureau aggregates and analyses thousands of images to identify newsworthy activities happening in Ukraine. The team has produced more than 400 images of the conflict and distributed them to an evergrowing list of journalists and media organisations for dissemination to the general public. The imagery has provided indisputable insight about what is happening on Earth, enabling the public, journalists, customers and governments to more clearly understand the situation and make informed decisions.
In some cases, Maxar was the first to provide new information to the world based on what its imagery showed. For example, in mid-March 2022, Maxar's satellite imagery revealed the word 'children' painted in Russian on the ground outside the Mariupol theatre, where civilians took shelter during Russia's attack on the city. Russia bombed the theatre days later, killing about 600 people, according to the Associated Press.
Enhanced understanding through additional capabilities
While this imagery provides unique and valuable insight, the Maxar News Bureau has also released information and context provided by additional Maxar capabilities. The imagery revealed the existence of a 40-mile-long Russian military convoy that stalled outside Kyiv, Ukraine. Maxar created a 3D video to demonstrate the scope and magnitude of the convoy.
The video, which includes sections of the convoy, was created by georegistering WorldView-3 imagery from 28 February 2022, on top of Maxar's Precision3D model of the Kyiv area. This data has an absolute accuracy of three metres in all directions, which means objects seen in the video are physically within that threemetre zone in the real world. This unique view, created with space-based data, offered ground truth when the area was not readily accessible.
Forecasting a significant decline in crop harvests
Ukraine is one of the world's top three grain exporters and sends its harvests to many parts of the world already facing food insecurity. Russia's invasion disrupted the planting of spring crops and the shipping of existing grain inventories from last season. These disruptions to the distribution of last season's harvest and this summer's growing season could further negatively affect global food supplies.
Maxar's WeatherDesk is an on-demand product that transforms regularly changing weather data into actionable insights. An analysis of the Ukrainian countryside in July 2022 found:
Compared to 2021, Ukrainian farmers planted 30% less spring acreage in 2022, a difference of more than 5,800,000 hectares (14.3 million acres).
WeatherDesk predicts the 2022 production of corn to be down 40% and production of sunflowers to be down 46% when compared with the 2021 growing season.
Russians continue to take grain from Ukraine and transport it to other regions of the world.
Ukraine usually plants corn and sunflowers in April and May for harvesting in September and October. Many factors disrupted this year's planting season, including farmers who left the fields to defend their country, farmers who couldn't plant due to fighting in the area, and the availability of seeds. Imagery and analysis shows that crops planted in northern Ukraine are growing fairly well due to favourable weather, but crops in southern Ukraine are suffering from dryness this growing season. WeatherDesk predicts production of 19.3 million metric tons (MMT) of corn and 10.6MMT of sunflowers this growing season, which would represent a decline of 40% for corn and 46% for sunflowers versus the 2021 growing season.
Harvested crop transportation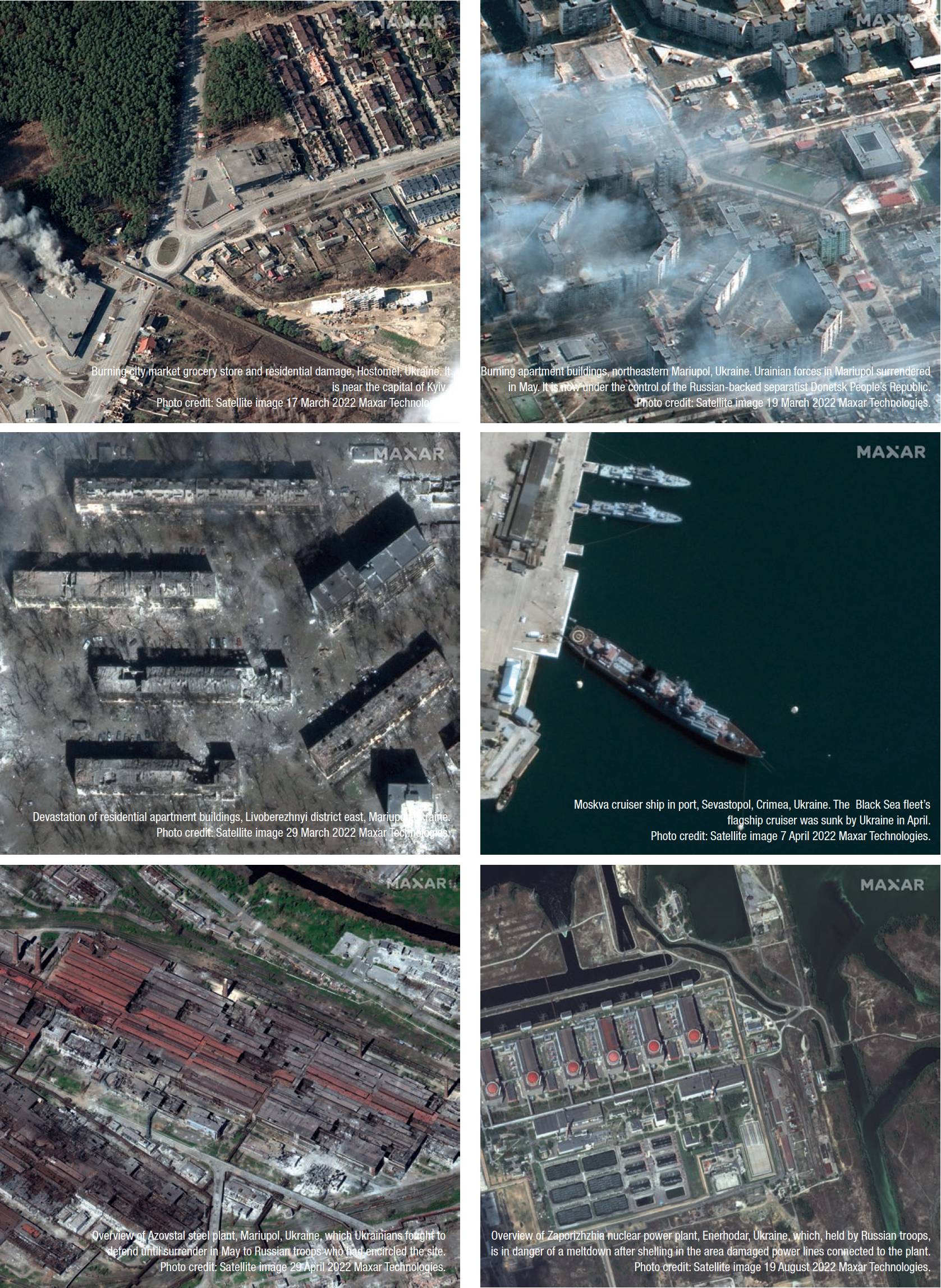 Maxar will continue to monitor the conflict in Ukraine – and other current events around the world – to increase global transparency and combat the spread of disinformation.
Before a deal between Ukraine and Russia was struck in late July to unblock Ukrainian ports to allow grain exports, last year's grain was left in silos at port and farmers were struggling to determine where to put this year's crop, if they can harvest it.
However, between May and July 2022, the Maxar News Bureau used satellite imagery to show multiple Russian- flagged bulk carrier ships docked in the Russian-controlled Crimean port of Sevastopol and being loaded with grain.
In some cases, days later, Maxar satellites collected images of the same ships docked in Syria, with their hatches open and semi-trucks lined up ready to haul the grain away.
While Russia denied stealing the grain, satellite images provided evidence against the misinformation.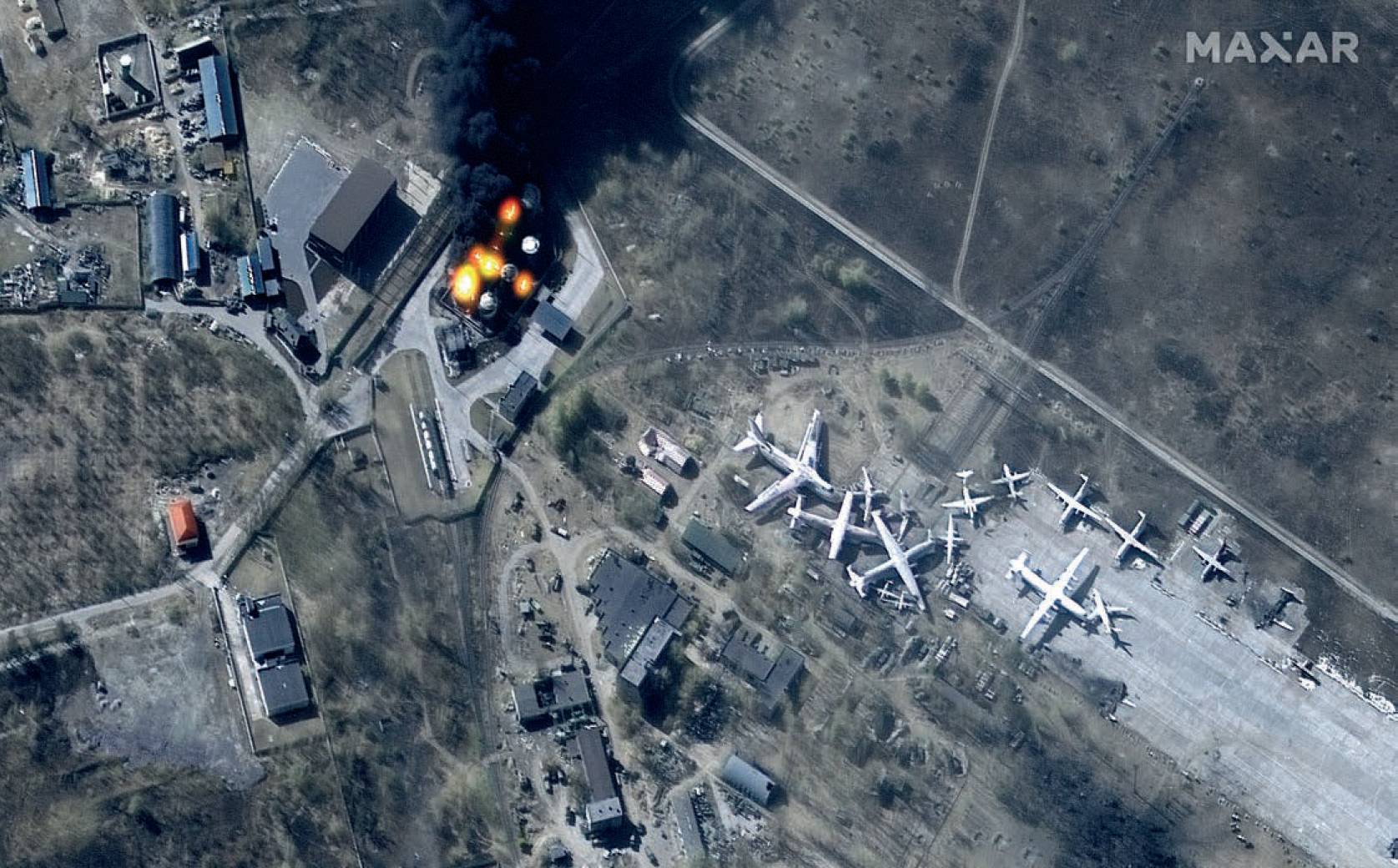 Ukrainian agriculture's impact on the world
The Food and Agriculture Organisation of the United Nations (FAO) has run simulations on how the world food supply will be affected if Ukraine faces long-term disruption to its agriculture industry. The simulations show the global number of people facing food insecurity could rise from an estimated 181 million in 2022 to 189 to 194 million people in 2022/2023, with the most pronounced increases in Asia-Pacific, followed by sub-Saharan Africa, and the Near East and North Africa. Additionally, FAO tracks how food prices are affected by the war in Ukraine. The FAO Cereal Price Index, which monitors international wheat prices, shows that prices were more than 16% higher in July 2022 compared with July 2021. According to the FAO: "Leading the decline, world wheat prices fell by as much as 14.5% in July, partly in reaction to the agreement reached between Ukraine and the Russian Federation to unblock Ukraine's main Black Sea ports, indicating the imminent resumption of grain exports from Ukraine." Instability in food prices can lead to further unrest in other parts of the world, even those that may not receive agricultural products directly from Ukraine.
The months-long effort to release hundreds of images, analysis and information about the ongoing conflict in Ukraine is one component of Maxar's broader effort to harness its capabilities for a better world. Maxar will continue to monitor the conflict in Ukraine – and other current events around the world – to increase global transparency and combat the spread of disinformation.
Stephen Wood, Senior Director, Maxar News Bureau
All information was correct as of 23 September 2022.