Using digital twin technology to restore the jewel of France
Nicolas Mangon, Vice President of Architecture, Engineering and Construction and Guillaume Joubert, Senior Infrastructure Strategy Manager, Autodesk, spoke to Danielle Kenneally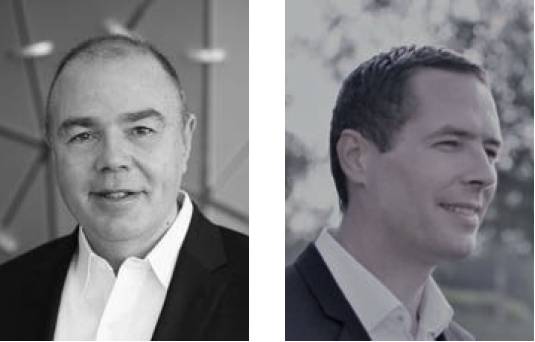 The role of Autodesk in the restoration of the Notre-Dame cathedral and its surroundings
SINCE being devastated by a fire that lasted 15 hours on 15 April 2019, architects, engineers and officials have been working tirelessly to not only clean up and restore the iconic medieval Notre-Dame Cathedral in Paris to its former glory but to also make it safe after toxic lead was released by the fire. Dating back more than 850 years, the cathedral's 300-year-old lead-lined roof and 19th century spire were destroyed, however, its main structure remained intact and despite delays to reconstruction work due to the pandemic and winter storms, officials are confident it will be completed in 2024.
Hundreds of millions of euros were pledged to help rebuild the cathedral, while others donated their help and expertise. This includes software company Autodesk who helped develop a 3D digital model through the use of building information modelling (BIM) to map the damage and allow for simulations of reconstruction works. Civil Engineering Surveyor's Danielle Kenneally talks to Autodesk's vice president of architecture, engineering, and construction strategy, Nicolas Mangon and senior infrastructure strategy manager, Guillaume Joubert about their contribution to the project.
They also detail their recent involvement in an international design competition to reimagine the urban landscape surrounding the cathedral. The competition saw a team led by Belgian landscape architects, Bureau Bas Smets win the opportunity to revive the square facing the cathedral, create a 400m riverside park and transform an underground car park beneath it into a visitor centre that opens onto the river Seine.
How did Autodesk get involved in the restoration of the Notre-Dame Cathedral?
Nicolas Mangon: Three and a half years ago, when the fire took place, our CEO, Andrew Anagnost, told us that Autodesk needed to be part of the support to rebuild the cathedral. He actually tweeted the French president Emmanuel Macron to let him know that he wanted us to get involved and be part of its restoration. It holds a special place in Andrew's heart because his wife is French, and Notre-Dame is also one of his favourite monuments in the world.
For us, we have some history about being involved in similar restoration and heritage projects, such as the One World Trade Centre, formerly known as the Freedom Tower, after 9/11. Our core technology that we have today, was developed to support the reconstruction of the of the Twin Towers in New York City. When the Fukushima nuclear disaster took place in Japan, when the earthquake and tsunami hit the power plants, we were involved in providing software to help with the clean-up there. We've always felt that modern technologies can really support these unique projects. For Notre-Dame, we donated software and created lots of intelligent 3D models of the cathedral's inner and outer features for the restoration team to use when and as they would need them. We still have people supporting the project team onsite too.
Did this develop into revamping the Notre-Dame surroundings?
Nicolas Mangon: Yes, our relationship with the City of Paris became an opportunity to work on the surrounding areas. It was going to take a lot of work to restore the cathedral over several years and it was going to get messy, so why not make it even messier and work on its surroundings too? We partnered with the City of Paris in 2018, when we got involved in the restoration of the Eiffel Tower grand site – all 2.4sqkm of it. We used BIM to create a 3D model of the area. It was one of the largest urban models of its kind, complete with buildings, roads and infrastructure, pedestrian zones and street crossings, urban furniture and green areas. UK firm Gustafson Porter + Bowman won a competition to redesign the area using it. It was an enjoyable partnership and project, one which we were able to engage with and showcase what could be done using modern technologies.
Guillaume Joubert: With this patronage, it made sense to facilitate a digital transformation for the Notre-Dame project. We simply, as a target, tried to replicate the value we delivered for the Eiffel Tower.
What are your roles in relation to this?
Nicolas Mangon: I'm from France but I've been living in the US for 25 years and in a way, I'm the French resident for the US teams. My involvement started very early on as a liaison between the corporate side and the project itself, managing the complex relationship with the government and the different entities involved in the project. While Guillaume is on the ground in Paris, front and centre, working with the City of Paris to utilise his experience in using digital technologies.
Guillaume Joubert: We provide overall project management and technical expertise to support the transformation project of the cathedral and its surroundings for the city of Paris. We're there for the design teams and assist in managing partners to deliver that project – Art Graphique & Patrimoine (AGP) for reality capture and WSP for modelling.
How did you go about creating the models that are being used to recreate the Notre-Dame cathedral?
Guillaume Joubert: We were able to use AGP's existing 3D scan that was started in 2010 and then add a reality capture of the existing conditions. We could provide all the elements on top of the existing condition model too – the landscape, the city furniture, the crypt, everything underground that create constraints.
Nicolas Mangon: We knew that 3D modelling and BIM could help and we were able to team up with companies like AGP to capture the cathedral post- fire. It's fortunate that they had begun scanning the site back in 2010 or there would have been nothing to help us rebuild. It took about two and a half years to stabilise the structure before any reconstruction work could begin. A huge challenge and one that remains is lead.
The roof was lined with lead and because it melted during the fire there were super high level of contamination – 800 times what a human can endure – and even recently when we visited inside, it was 10 times what we can withstand. We knew that by starting early we could help save time in the long run for when its reconstruction was able to begin, so we started building the 3D digital model that they could use and now they are using it three years later. We were ahead of the planning stage because they didn't know what they wanted but we worked on it and had fun during the year we developed it. The Notre-Dame City of Paris surroundings will be the cherry on the cake.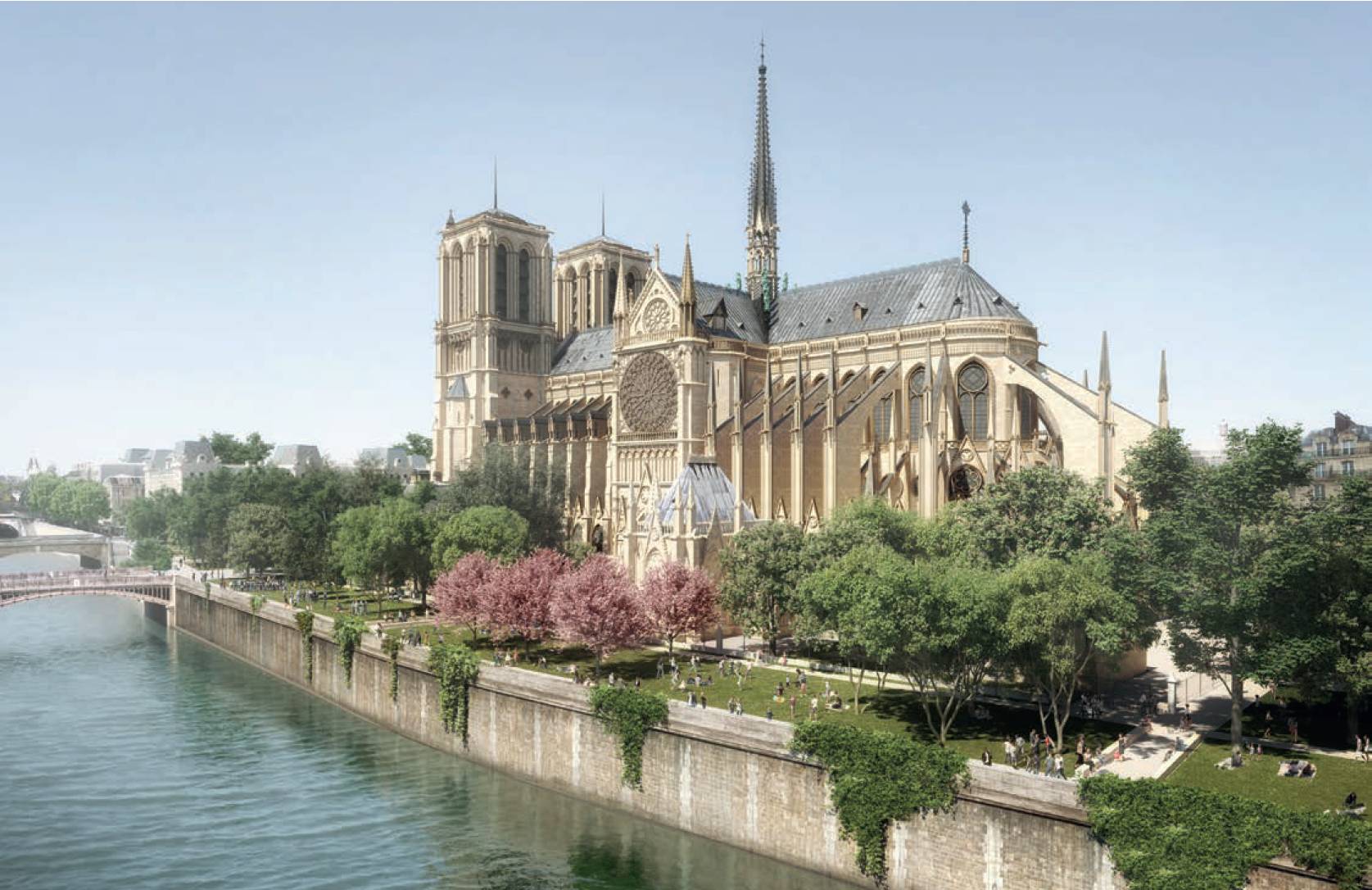 Tell us about the design competition then, how did it develop and what made the winning concept by the Bureau Bas Smets-led team stand out from the other entries?
Nicolas Mangon: The four teams that began the design competition all had the same starting point – a digital twin of the Notre-Dame City of Paris surroundings existing conditions which we were asked by the City of Paris to create for it. It included the forecourt of the cathedral and its underground spaces and areas over the banks of the Seine River.
This meant that each team would start from the same level of data, including measurements, and it made it much easier for the City of Paris to compare apples with apples versus everybody using different kinds of tools and measurements. We provided the environment and the competing teams led by architects, urban planners, and landscape architects, were invited to submit their design proposals based off of them.
Guillaume Joubert: We started this during the pandemic and there were a lot of different stakeholders for each team; landscape designers, architects, engineers, a lot of people are invested in it. The jury is invested in it – the church, Parisiennes from the district, the City of Paris state – around 15 million visitors flock to the iconic monument each year, there's a lot at stake. The winning design has a good visitor centre, it's very green and it counteracts the urban heat island problem we have in the Parvis, the Notre-Dame square located in front of the cathedral.
There are other good elements from the winning Bureau Bas Smets team, who also includes urban planning agency GRAU and heritage specialist Neufville-Gayet, such as a ground cooling system plan which will use the natural water we have to trickle over the stones on hot days to lower the temperature of the site. It makes the proposal really unique. The number of trees, vegetation and shrubs planned is also really good as it will create some natural shadow. It's essentially a great green proposal.
Nicolas Mangon: Last year, lawmakers in Paris set a goal to plant 170,000 new trees throughout the city by 2026, so this was a huge tick for the proposal put forward by Bureau Bas Smets. The city's plans, championed by its mayor Anne Hidalgo, were drawn up to mitigate the effects of extreme urban heat as well as soak up air pollution. The winning proposal will help the City of Paris to hit that goal.
Guillaume Joubert: The schedule for the surroundings will not be before the end of the cathedral's reconstruction which is planned for 2024 at which point the fences for the lead contamination and pollution area will be removed. It'll start probably around 2025.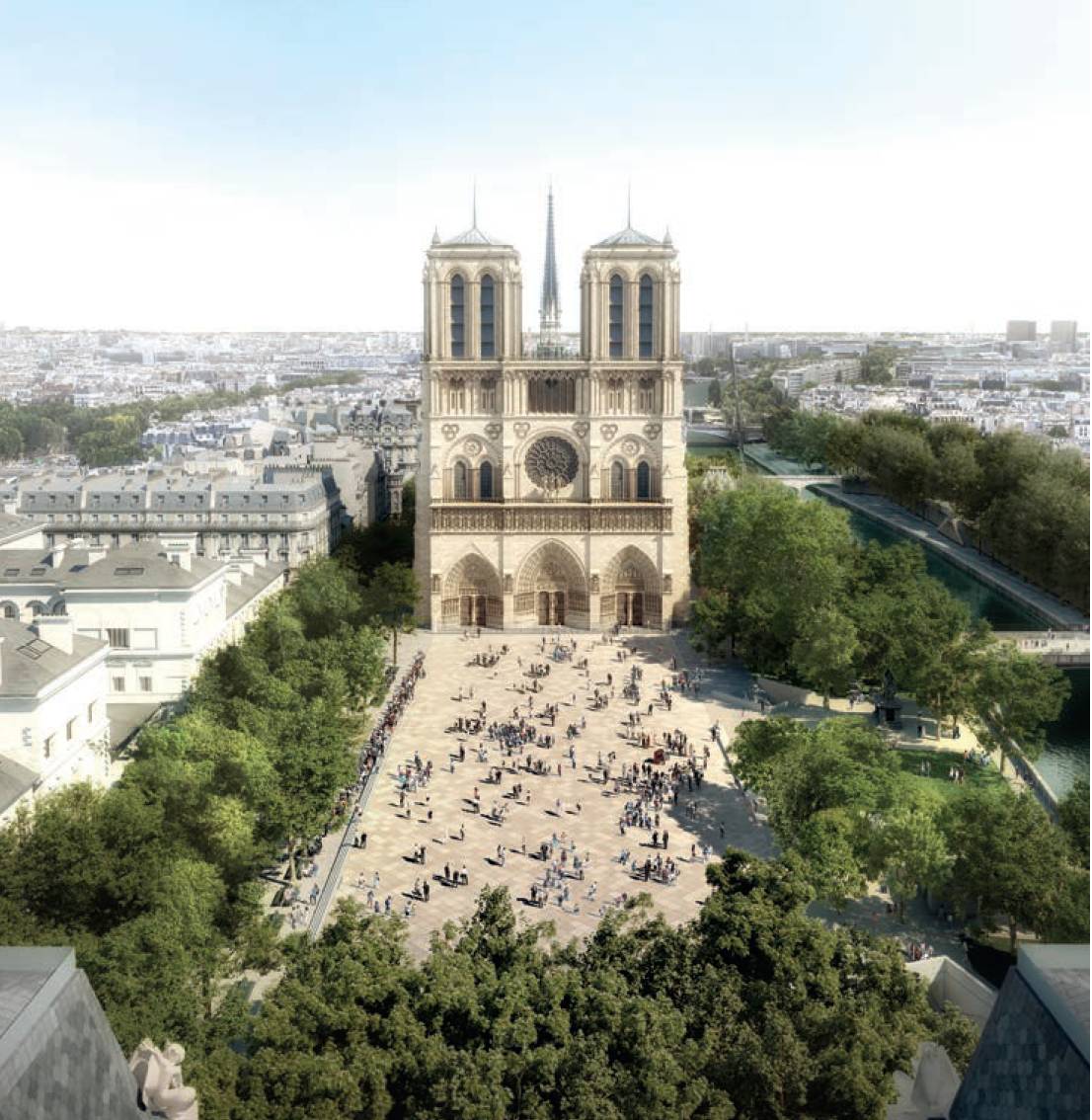 How will the models be used as part of the project to preserve and enhance French heritage during and after its completion?
Guillaume Joubert: It will be defined in more detail as time goes on, but to begin with, rather than it being seen as a digital twin of the surroundings, it was simply about the competition and its benefits for providing that base data for the four teams. It was about providing comparable digital data before the build itself to help when making the decision to award one of the teams. Its use beyond that as a digital twin is the next step.
Nicolas Mangon: I think a lot of cities around the world are asking these kinds of questions. There are places like Barcelona, London and Singapore, or other places in the world that really want to use these digital twins to manage traffic, cleaning of the cities, and future construction, in addition to capturing iconic monuments.
The British Parliament is capturing its existing conditions for its renovation which we will be a part of digital twins can help to manage the lifecycle of cities. We are in the early days but we see cities become more and more aware of what technology can offer. For us it's about donating and contributing to the city, and then they can decide what they want to do with it post-construction.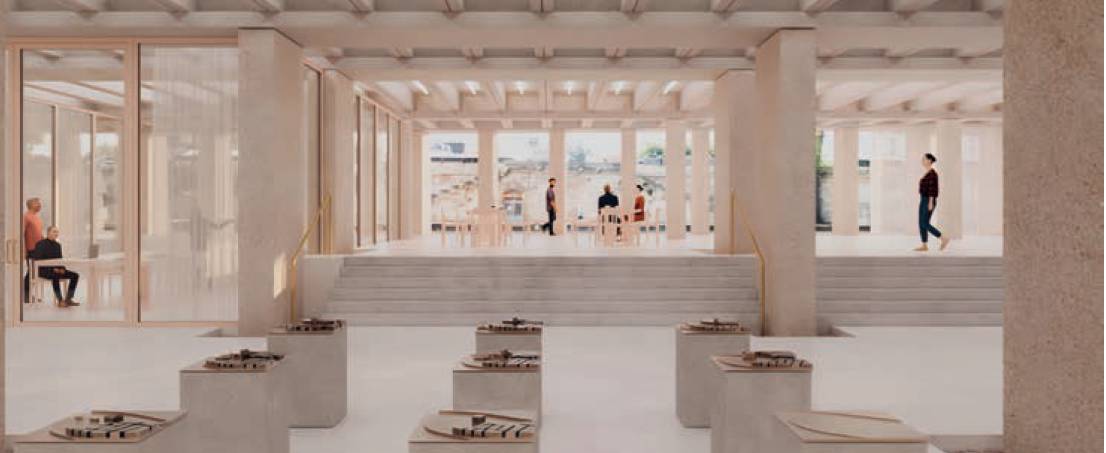 What environmental and social values will the project bring to the surroundings of Notre-Dame?
Guillaume Joubert: There are so many, not only will it be greener as we mentioned but it'll also be safer as it'll be more pedestrianised and there will be an absorption of the tourist areas as the surroundings will link to the cathedral and the crypt. The design elements, such as the trees, will also potentially mean less noise pollution for Parisiennes because they act as a buffer by absorbing and deflecting sound energy.
[It's] amazing to be a part of this unique project that is part of our history. It's important because of the legacy, it's important because of history and it's important because of what it means to people.Nicolas Mangon: The area was developed organically and it was never conceived that so many people would visit. While around 15 million visit Notre-Dame, there's 20 million in the surrounding areas of Paris visiting the Eiffel Tower. Parking's a mess, traffic's a mess, it's just a mess, the proposal helps to address some of these fundamental neighbourhood social issues and have a positive impact on the environment.
Finally, for you personally, what does it mean to be involved in a project that means so much to so many both nationally and internationally?
Nicolas Mangon: It's amazing, I have a lot of pride in all of our teams and employees that are involved in this work. It's part of our values to give back and on such a unique project we're making an impact that's going to be very visible in the world. Guillaume and I both studied structural and civil engineering at ESTP in Paris on, where it was then, Boulevard Saint-Germain, just two blocks away from Notre-Dame. I didn't know Guillaume back then as we studied there several years apart but for both of us, we walked by Notre-Dame on a daily basis, so it's very special to us.
Guillaume Joubert: It definitely is amazing to be a part of this unique project that is part of our history, we're really touched to be involved. It's important because of the legacy, it's important because of history and it's important because of what it means to people.
Nicolas Mangon, Vice President of Architecture, Engineering and Construction and Guillaume Joubert, Senior Infrastructure Strategy Manager, Autodesk, spoke to Danielle Kenneally