Modern construction leading to a sustainable future
Lucy Pollock, Michon with Chris Evans, UK Business Director for Building Construction, Hexagon Geosystems
THE UK has looked to the construction sector to help reinvigorate the economy after Brexit and the Covid-19 pandemic, underlined by the government's commitment to 'build back better, build back greener, build back faster'.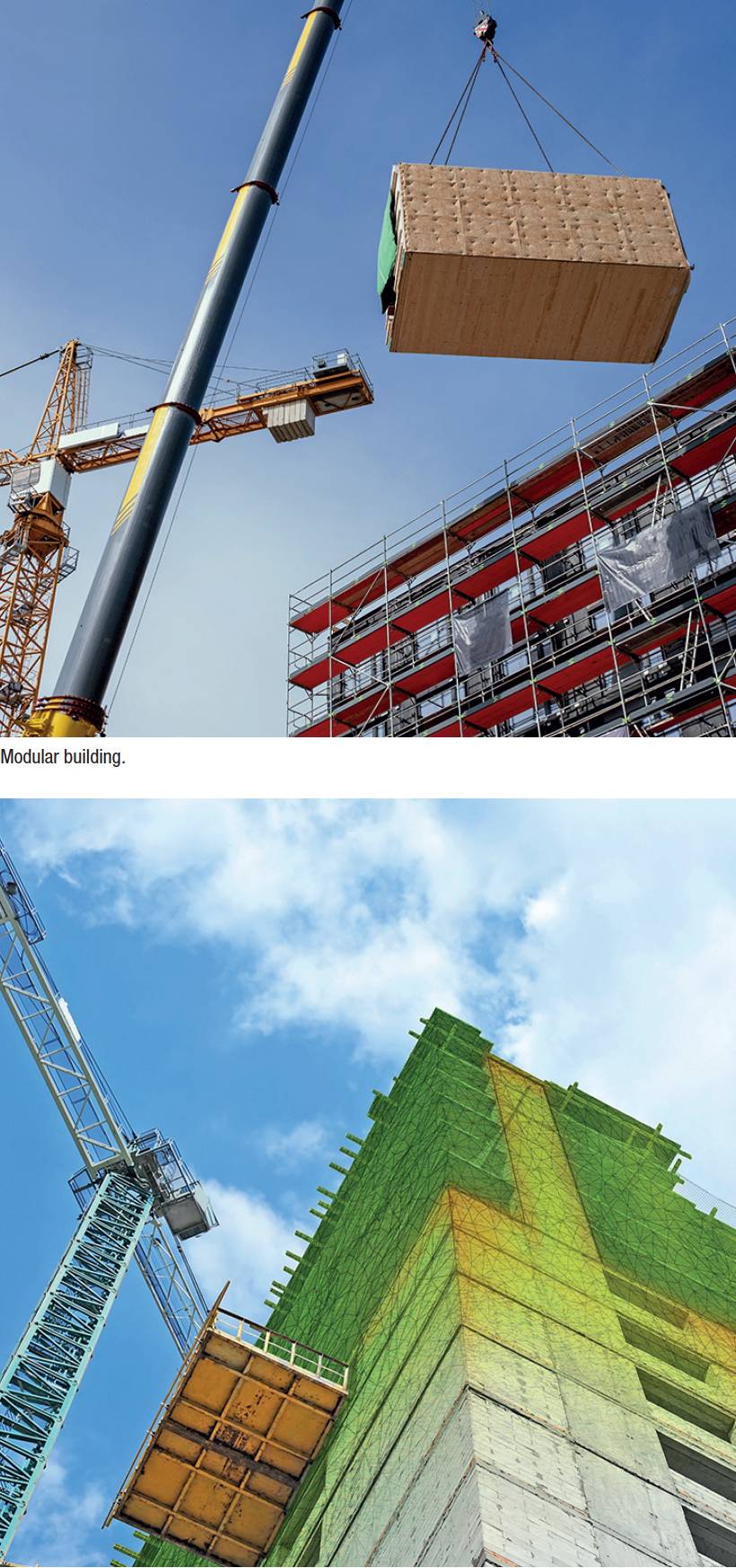 To get there, the industry will have to overcome a perfect storm of challenges, from materials shortages to skills gaps, and move towards sustainable, digital construction for a net zero future.
It's a huge and complex undertaking, but innovative new technologies and modern methods of construction offer a solution to the obstacles and opportunities ahead.
As part of Hexagon, Leica Geosystems is supporting change in the sector by addressing key challenges and opportunities now and into the future, and looking at how modern methods of construction are already having an impact.
What lies ahead?
Moderate growth and a varied forecast
Construction activity bounced back in 2021 compared to 2020, but it was reined in by supply chain shortages and price rises. According to a recent Construction Industry Forecast for 2022-2023, activity was up 11% compared to 2020, but that's still 8% lower than pre-pandemic levels. Activity is expected to rise by a more moderate 7% this year, and by 5% in 2023.
The forecast varies across different sectors and regions, with growth led by increased public sector investment in social housing, health, schools and civil engineering projects. Alongside increasing demand for warehouse and logistics space, and a surging hotel and leisure sector.
The Midlands and the north of England is expected to take the lead, driven by the government's 'levelling up' agenda, as well as Wales, Scotland and Northern Ireland.
Fast moving challenges – in the construction industry
One of the main issues facing construction is that challenges are fast-moving and always changing. Supply chain shortages are just one example. This is expected to ease over 2022-2023, but the International Chamber of Shipping (ICS) has warned that Russia's invasion of Ukraine could lead to a global shipping crisis.
Rising inflation in the UK is likely to keep the pressure on the cost of construction materials, exacerbated by spiralling energy prices, especially for energy-intensive products.
Russia's invasion of Ukraine is also impacting the supply of some raw materials, such as nickel, copper and aluminium, together with continuing pandemic restrictions in China.
Plus, skills shortages look set to continue post-Brexit, making it even more essential to encourage young people into the industry from school, college or university, and attract a more diverse workforce.
The construction industry has proven how resilient it can be over the last two years, and resilience will be key to navigating the sector's many challenges. That same resilience will also help construction to transition towards the net zero economy and embrace sustainable, digital construction.
How can construction build back better, greener, faster?
Modern methods of construction and increased efficiency
Adopting modern methods of construction and using digital processes on site will drive the efficiencies needed to overcome a range of constraints including price rises and skills shortages.
Digital construction doesn't just involve designing digitally and then using traditional construction methods onsite. It means working directly from 3D digital models using automated workflows to construct onsite, and feeding back accurate, asbuilt data that has been checked and verified into the model, which can then be handed over to the building owner as part of a digital operations and maintenance manual.
Digital construction will enable design teams to design more efficient buildings, walk clients through the project and get sign off from the get-go, tender more accurately, and support the fast, accurate, efficient construction of better quality, more sustainable buildings.
Offsite and modular construction
Offsite and modular approaches are at the heart of modern methods of construction. From pre-manufacturing modular building components in a factory setting offsite and assembling them onsite, to 3D volumetric modular construction, where complete, fully fitted-out building units are constructed offsite. Adoption of offsite and modular construction is growing, with companies like Premier Inn creating modular hotel rooms offsite (already constructed), and fitting them onto a central concrete structure constructed onsite.
The industry will have to overcome a perfect storm of challenges, from materials shortages to skills gaps, and move towards sustainable, digital construction for a net zero future.
Laing O'Rourke was one of the early adopters and their Centre of Excellence for Modern Construction is the most automated concrete products manufacturing facility in Europe. The company has pioneered an offsite production approach known as DfMA 70:60:30. 70% of construction is done offsite, leading to a 60% improvement in efficiency and a 30% improvement in project schedule.
Building components and prototypes are designed and precision manufactured quickly and consistently in a safe, quality-controlled factory using an automated approach, before being transferred to site for 'just in time' installation.
Taking even the first steps towards using offsite construction methods can help companies start to see the huge benefits of moving towards modern methods of construction, while making small, incremental gains: As Laing O'Rourke's approach demonstrates, modern methods of construction are enabling the sector to build faster, while improving quality, safety and sustainability, and reducing waste and cost.
It also highlights how the shift away from traditional construction is helping to create new digital roles in the industry, while supporting smaller teams to work more efficiently. Automation isn't about replacing people, it's about helping construction to innovate, overcome challenges and benefit from new opportunities.
The adoption of modern methods of construction, including digital solutions and offsite manufacturing, is among Glenigan's key recommendations for 2022-2023, highlighting their ability to accelerate design and construction processes and reduce reliance on onsite labour. Their report also notes that the pandemic has accelerated the uptake of digital systems.
Sustainability – the driving force
Buildings generate nearly 40% of annual global carbon emissions. Building materials and construction are responsible for 11% of this total, with building operations accountable for 28%. In the UK, the Climate Change Committee (CCC) estimates that operational carbon emissions from buildings make up 18% of the UK's total emissions, with 13% coming from the construction and manufacturing sectors. It's clear that construction has a huge role to play in achieving net zero and change is on the way.
Sustainable, transparent supply chains
Build UK has introduced sustainability, diversity and cyber-security requirements into its Common Assessment Standard, a set of pre-qualification questions used by the industry to assess contractors. Leading construction companies, including Balfour Beatty, Mace, Skanska and Costain, use the standard as part of their supply chain procurement. Listed companies with over 500 employees will have to set out how they're managing climate-related risks and opportunities in their annual reports from this financial year, as part of new government regulations.
Embodied carbon
To date, sustainability efforts have focused on decarbonising operational carbon emissions in existing buildings, including heating and lighting. However, industry bodies such as the CCC, the Institution of Structural Engineers, and the UK Green Building Council have called for a focus on whole-life carbon emissions, including the embodied carbon emissions from materials, construction, maintenance, refurbishment and demolition.
Architecture 2030 has identified that just three construction materials – concrete, steel and aluminium, are responsible for 23% of total global emissions, underlining why embodied carbon is such an important priority for the industry.
Sustainability will be the driving force behind the UK construction market for the next five to 10 years: We'll see a raft of new regulation, policies and targets around embodied carbon for both new build and retrofit projects, including amendments to building regulations and certification of building materials. It's likely that in the near future, more and more projects will need to submit their projected embodied carbon impact and meet minimum standards as part of the planning process.
Digital construction will enable project teams to work out the annual embodied carbon impact of a building at the design stage, document and evidence compliance throughout construction, and create a data-enriched digital operations and maintenance manual for the building owner, to minimise operational carbon emissions throughout the building's lifetime.
Crucially, operational information can also be fed back into the design model, creating a continuous feedback loop to drive improvements. In the same way, digital construction will also help firms to evidence compliance with changing regulation around quality and safety. Sustainability will see the industry shift towards renovating and repurposing existing buildings and components which will have the added benefit of reducing the need for expensive rework. Alongside energy-efficient designs and sustainable construction materials and methods, including electric plant and vehicle fleets.
Sustainable digital construction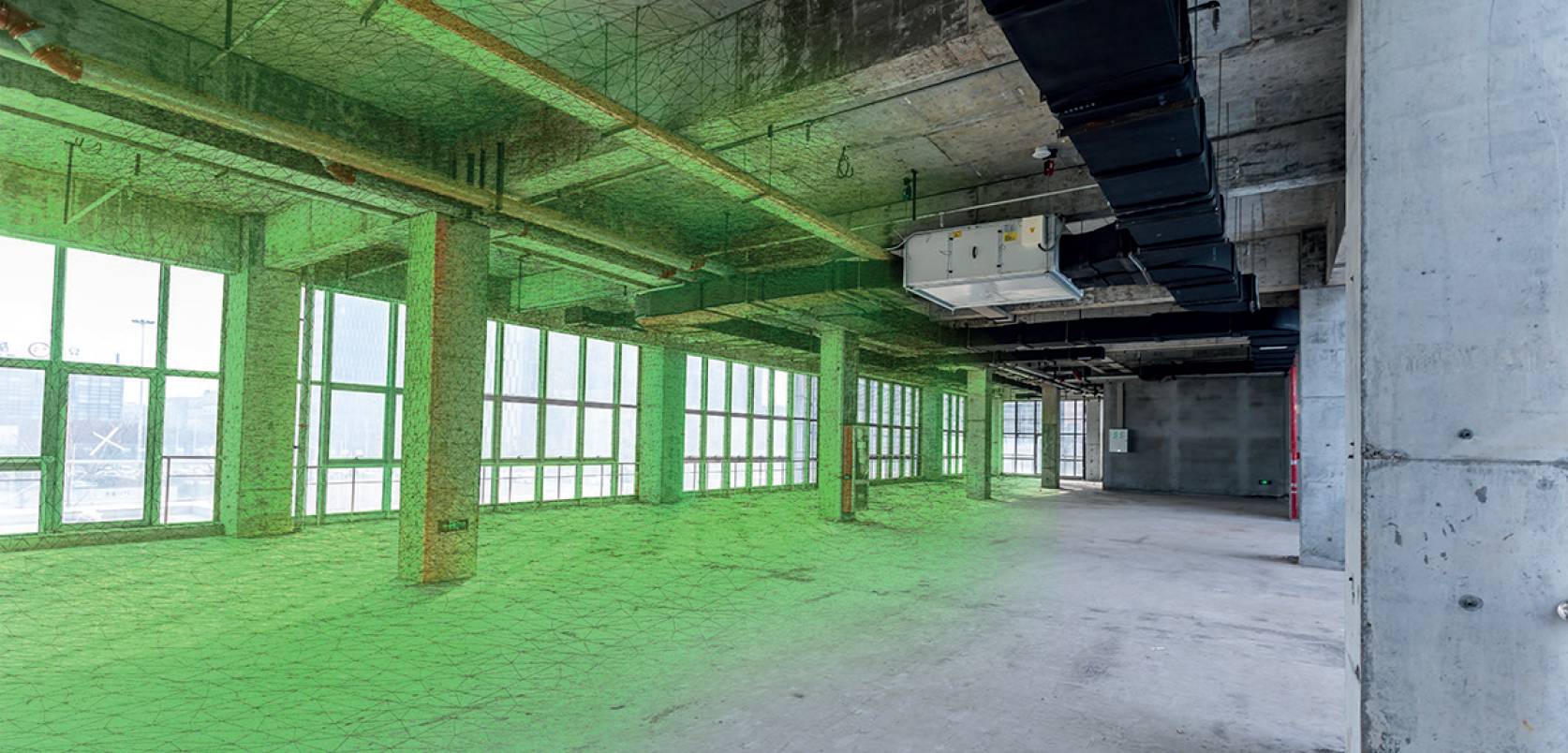 Sustainability is also set to drive how the sector uses digital construction tools such as building information modelling (BIM).
Studies have shown that to accurately assess embodied carbon, companies will have to go beyond looking at sustainability at the design stage, and capture the actual experience of constructing a building, including how materials are delivered and used by onsite teams.
Digital construction tools enables project teams to work direct from the same digital model, including subcontractors and tradespeople.
Bouygues UK used Leica's iCON site system on a project to repurpose the former London Royal Hospital, turning the Grade II listed building into a new town hall for Tower Hamlets and commercial office space.
The project team wanted to bring their BIM model onsite, and use it to ensure that the build went ahead in line with the design.
We'll see a raft of new regulation, policies and targets around embodied carbon for both new build and retrofit projects.
The solution consisted of a robotic total station and a portable controller with industry-specific software to handle the BIM model and connect with the total station. This allowed Bouygues to manage quality control, automate the setting out process, and capture data for compliance purposes.
The system enabled them to reduce errors, save time and contribute to reducing the carbon footprint, while also allowing for better decision making around the type, scale and timing of the assets needed during a project.
Kane Group has also adopted a digital layout procedure using Leica's iCON iCT30 automated layout tool, most recently on a project to build the tallest Premier Inn hotel in the UK, located at London's West India Dock. Kane is responsible for the full mechanical and electrical fit-out, the shell and core, and all the bedrooms. The digital layout procedure involves Kane's design team in Ireland sending BIM data direct to Kane's engineers on site, so they can set out digitally, instead of using traditional techniques such as chalk lines, tapes and strings. Using the automated layout tool had seen it get to work months earlier, ahead of the dry-liners and trades, which is key on a compact site.
The ability to use sustainable digital construction methods will become a part of the prequalification process for contractors. The onus is on manufacturers like us to create cost-effective solutions so everyone has access to digital tools and can benefit from the proven efficiencies and cost savings.
Hexagon's project management system, HxGN Smart Build, is fully open source. It links model and schedule information in a cloud and mobile solution, tracking and providing insight into construction tasks and project performance to keep projects on schedule and on budget. It optimises building design and construction by connecting the office and the field. Providing visibility into project status and the ability for stakeholders to drill down into the details, enabling root cause analysis and faster course correction.
Collaboration will be key
As well as resilience, collaboration will be key to construction's continued growth.
With construction needing accurate and precise models to drive efficiency and sustainability, reality capture is all set to become a key technology.
The Construction Leadership Council has called for a collaborative approach to supply chain issues, and it will also be vital for the adoption of digital technology. Everyone involved in a project will need to work together using the same data and models, from clients and designers, to main and sub-contractors.
Technology providers need to be as open as possible with their solutions to make sure they slot into any tech stack or automated workflow to help drive efficiencies. Hardware is no longer a customers main focus, it's all about the data generated at every stage and putting that data to work – feeding into the golden thread of data-enriched information that runs throughout the project.
Cloud-hosted reality capture workflows are designed to condense data so information can be easily transferred and accessed from site and the office, and this accessibility will be further enhanced with 5G. Collaboration with clients is also helping to drive innovation, with their valued input helping to develop and bring new solutions to market.
We're currently developing our iCON automated layout solution with one of our customers, so it will have the ability to precisely position components to their specific locations onsite simply by reading the QR code on each item. This will identify the object in the model, select it and allow the engineer to set the instrument to automatically turn and project a laser so each component can be fitted into place.
No longer can we think in terms of the physical and digital worlds as two separate places, there is only one reality. Only when all the data is available in one place, live and in context, can we have a complete line-of-sight into ever-changing situations."
The construction industry is also collaborating to drive sustainability, with the help of digital solutions. Innovaré helps pioneer modern methods of construction, creating energy-efficient structural insulated panels (SIPs) offsite, ready for assembly. As part of a circular twin initiative led by Morgan Sindall's Scape Group, the company helped to digitally build a school that had already been constructed, reworking the entire project to improve its embodied carbon impact and evidence what can be achieved.
What's next?
With construction needing accurate and precise models to drive efficiency and sustainability, reality capture is all set to become a key technology. The ability to scan a construction activity in the field and verify it against the project's digital model in seconds, will be a huge advantage.
It means something like a concrete floor can be poured, scanned, checked, and perfected whilst it's still wet, saving huge amounts of time and money currently spent on reworking. It's one of the biggest topics of conversation in the industry and it's not hard to see why.
To date, we've been taking lots of small steps as a sector to improve sustainability. With the spotlight on construction to do more and industry bodies coming together to provide more leadership and guidance, it's time to take a giant leap towards net zero. Climate change is a global crisis and we have to try and improve our sustainability as an industry.
Lucy Pollock, Michon with Chris Evans, UK Business Director for Building Construction, Hexagon Geosystems
www.hexagon.com www.leica-geosystems.com/
Sources:
www.ics-shipping.org/press-release/russian-and-ukrainian-seafarers-make-up-14-5-of-global-shipping-workforce-according-to-ics/
www.post.parliament.uk/research-briefings/post-pb-0044/
www.laingorourke.com/company/modern-methods-of-construction/
www.architecture2030.org/why-the-building-sector/#:~:text=Buildings%20generate%20 nearly%2040%25%20of,for%20an%20additional%2011%25%20annually
www.medium.com/@danisevastia/is-building-information-modeling-bim-really-able-to-calculate-embodied-carbon-for-construction-3cb4bcf66ba2
www.leica-geosystems.com/en-gb/case-studies/surveying-and-engineering/move-bim-to-site-bouygues-uk
www.kanegroup.co.uk/news/kane-adopts-leica-geosystems-for-digital-layouts